Chris Tarrant fined for speeding twice in Berkshire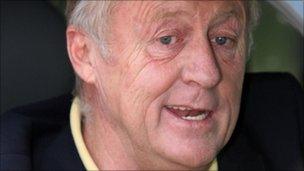 Chris Tarrant has been given six points on his licence and fined £525 after he was caught speeding twice within 21 minutes on the same stretch of road.
The television presenter's Mercedes Benz CL500 was clocked at 47mph on the 30mph limit Broad Lane in Upper Bucklebury, Berkshire, on 20 May 2009.
The same speed check caught him doing 41mph on the road minutes later.
Mr Tarrant's lawyer Nick Freeman - known as Mr Loophole - pleaded guilty on behalf of his client.
At Reading Magistrates' Court, celebrity lawyer Mr Freeman argued that the speeding offences should be treated as having happened on a single occasion.
"The two offences occur 21 minutes apart on the same stretch of road in ideal traffic conditions," Mr Freeman said.
"Had he been 20 minutes down the road going in the same direction you would probably have been of the view it was the same occasion."
But District Judge Peter Crabtree rejected this opinion.
Arguing for an abuse of process, Mr Freeman said that two summonses for Mr Tarrant, 64, from Esher in Surrey, to appear in court went missing, meaning he received the third summons 11 weeks after the six-month time limit.
However the judge found the delay was not the fault of the prosecution and did not prevent a fair trial.
After the hearing, Andrew Perry, from the Crown Prosecution Service, said: "Chris Tarrant has today changed his plea to guilty... after his defence team had earlier failed to persuade the court that to try him would be unfair.
"The speed limit is there to protect the local community and by exceeding this speed limit Mr Tarrant - like any other driver - was potentially endangering the safety of other road users."
The television presenter, who was given three points for each speeding offence, now has nine points on his licence. He was also ordered to pay £1,630 in costs.
Leaving court, Mr Freeman said there was no comment on behalf of his client.
Related Internet Links
The BBC is not responsible for the content of external sites.