Berkshire council awaits house share control advice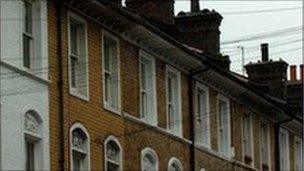 A Berkshire council has said it is waiting on government advice on how to control the spread of multiple-occupancy homes, under new rules.
From 1 October, landlords will no longer need planning consent to convert houses into shared homes for fewer than six people, under government changes.
The occupants must live independently of each other, but share amenities.
Reading Borough Council said follow-on advice should help control the spread of such homes where there was a demand.
Critics say houses in multiple occupation (HMOs) can lead to higher levels of anti-social behaviour and crime.
University towns like Reading can have an especially high number due to students sharing homes.
The council said the new rules were being brought in to save landlords time and money.
A spokesperson said: "Further advice from central government on how councils might wish to control the spread of houses in multiple occupation (HMOs), where there is a local need, is still awaited.
"The council's planning department will review its existing guidance and policies relating to HMOs once this position is clearer."