Rushy Mead wind turbine plans go on display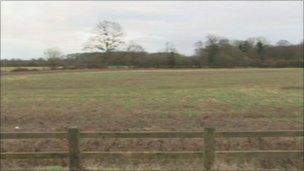 Developers for a wind farm in Berkshire have put their plans on display vowing to listen to people's concerns.
The University of Reading is behind the proposals for four turbines on its land near the M4 at Rushy Mead, Shinfield.
But opponents have said the turbines are too close to homes and the noise would disrupt their sleeping patterns.
A planning application has been submitted and residents can have their say at a number of exhibitions.
The first began at Earley Community Resource Centre earlier on Tuesday.
It will be followed by an event at Arborfield Village Hall on Wednesday and another at Shinfield Parish Hall on Friday.
The farm would be funded and run by Partnerships for Renewables (PfR) which said the planning application will look to take into account views expressed at the meetings.
The firm said the farm would generate enough electricity to power 5,500 homes.
Tony Duffin, regional manager at PfR, said a number of studies had been carried out which has determined the "appropriate" locations for the turbines.
He added: "We have been investigating the site for more than two years and have received valuable feedback from the local community.
"We have worked hard to incorporate the feedback into our plans and will be holding public exhibitions later this month so that members of the community can come along and discuss the details of the application with the project team."
The Householders Against Rushy Mead (Harm) said it was not an appropriate site for a wind farm.
Jan Heard, from Harm, who lives about 350m (985ft) from the proposed site, said: "There are a number of reasons why we're against it.
"It's too close to people's homes, there's been insufficient information put out about it and the guidelines on noise being applied are out of date.
"Why put a wind farm in the middle of central England where there's no wind?"
She added that the planning application was submitted before many local residents had a chance to view the plans and comment.
The original plan for six turbines was scaled back after BAE Systems feared they could affect the radar at Heathrow.
Related Internet Links
The BBC is not responsible for the content of external sites.