Spending Review: Berkshire 'funeral' for public cuts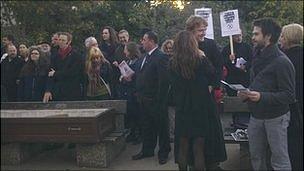 A coffin and hearse have been driven through the streets of Reading in protest at the level of public service cuts in the Spending Review.
Workers, union activists and campaign groups took part in the "funeral procession" through the streets.
Organisers, Save Our Services in Reading, said: "Our government hopes to murder every public service we hold dear."
Chancellor George Osborne outlined an £81bn cuts package.
Mr Osborne said economic growth and reform were at the heart of his plans and that "those with the most should pay the most".
Save Our Services is a coalition of trade unions, community organisations and residents from across Reading and was set up in September in response to the planned Comprehensive Spending Review.
A spokesman for the group said: "With 600 jobs to be cut at Royal Berkshire Hospital, £75,000 cut from the Connexions budget in Reading and with £1.5m to be cut from education [in the town] this year, the situation is grave."
Connexions is an advice service aimed at supporting the development of young people up to the age of 19.
He added: "The fabric of our society is under threat."
Related Internet Links
The BBC is not responsible for the content of external sites.