Spending Review: Minister agrees Reading rail revamp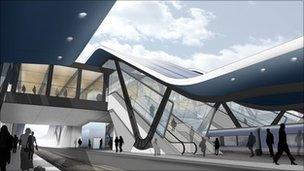 An £850m revamp of Reading railway station has been confirmed in the Spending Review but other schemes are still in doubt.
Transport minister Theresa Villiers visited the town to confirm the project but no decision has been made on a £15m roads revamp around the station.
Wokingham council is meeting later over plans to build 13,230 homes by 2026.
The council still believes 3,500 homes will be built at Arborfield Garrison despite the MoD scrapping its closure.
As part of the strategic defence review, a plan to move the training facility to Wales was put on hold.
But the council said it still expected the site to be vacated in the near future and become available for development.
In Reading, the major revamp of the town's station was confirmed but decisions on the electrification of the Great Western Main Line, which will run through Berkshire, and a new fleet of intercity trains were absent from the review.
A £15m government grant to improve roads around the revamped station is still up for discussion.
Rob Wilson, Conservative MP for Reading East, said: "The minister has been here today and is behind the plan, she will take back her thoughts to the secretary of state.
"At the moment I am not worried about the roads plan but I am working hard to let ministers know the importance of it.
"It is a very difficult time for everybody, but we in Reading haven't done too badly, we still have investment in the station, local economy and it is still strong."
The Department for Transport said it was still assessing a number of projects following the Spending Review, including the electrification of the western line and the roads improvement plan for Reading.
Related Internet Links
The BBC is not responsible for the content of external sites.