Asha Muneer murder: Friends torn apart by stalker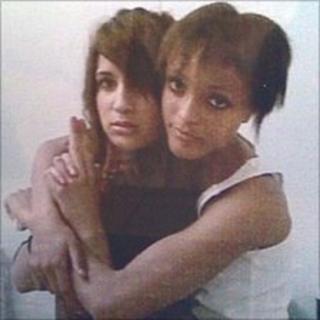 When Ivy Muigai heard that her best friend Asha Muneer had been killed she did not believe it at first.
The pair were like sisters and had got to know each other when they began studying for their A-levels and soon became inseparable.
Ms Muigai, 19, said: "We had so much in common. Everywhere she went I went and everywhere I went she went. I'd do anything for her and she'd do anything for me.
"She used spend so much time at my house, she actually had a bed there."
Ms Muigai appeared as a prosecution witness during Gulamyr Akhter's trial, which led to his conviction for Ms Muneer's murder.
She said she was the person who initially introduced her friend to Akhter but he soon became more and more abusive and controlling, turning into a "stalker".
'Aggressive' behaviour
"He'd call her... (and) ask her where she is and if she didn't agree to it his tone would get aggressive," she said.
"Then he would be there. So if she's studying, he would be there, sitting there. She couldn't go to the toilet without him being outside, standing there. There was nothing she could do on her own anymore.
"Alarm bells start going when somebody does that to your friend."
Ms Muigai and two close friends were all getting increasingly worried about Ms Muneer's relationship with Akhter.
He would even forbid her seeing them. If she was with them he would ask to talk to them to make sure she really was only with female friends.
They encouraged her to break up with him, which she eventually did.
But Akhter did not leave Ms Muneer alone and in the ensuing months he carried on stalking her, Ms Muigai said.
On 18 January he followed Ms Muneer as she left work at the Laura Ashley shop at the Brunel Retail Park in Reading.
She walked along a towpath next to the River Kennet and as she reached an underpass he attacked her with a kitchen knife, stabbing her more than 30 times.
Ms Muigai said she did not believe it when her friend called her to say "Asha is dead".
"I went to see the parents and when I saw Asha's dad crying that's when I broke down," she said.
Akhter was arrested the next day.
"Gulamyr, as much as he was stalker-ish, at first I couldn't believe it was him," Ms Muigai said.
'Got justice'
"Simply because even after they broke up he would come to me to ask 'how's Asha doing?' and I would be like 'she's fine, but I think it's time you move on because she's moved on'.
"To hear that he had killed her simply because he didn't want anyone else to have her, now that brought anger.
"Yes, I do believe he killed her."
Ms Muigai is studying law at Portsmouth University and said her ambition was to become a top criminal lawyer.
"I would like to be part of something that restores justice in the world," she said.
"I would like to put people such as Gulamyr behind bars to stop them from destroying people's lives and going unpunished.
"My friend... at least I'll feel I'm doing something for her.
"I'm remembering her and she's looking down on me knowing that I'm doing something that will help people and bring justice - just like she got justice."
She said her friend, had she been allowed to live, had plans to go to university to study psychology.
"She was the sort of person that when she entered a room you wouldn't stop smiling," Ms Muigai said.
"Forget her attributes, being so beautiful, that was just the exterior. The interior was far more beautiful - she would light up the room."