'Lethal' fireworks stolen from Berkshire warehouse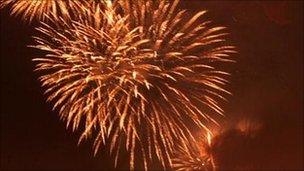 Police have warned that £5,000 of professional fireworks stolen from a warehouse in Berkshire could have "dire consequences" if used by the public.
The warehouse in Waterloo Road, Wokingham, was raided on Thursday.
A number of aerial shells were taken. The shells are launched out of metal cylinders, propelling them into the air with only a six-second fuse.
The fireworks are not sold to the wider public and should have a safety radius of at least 100m (329ft), police said.
Pc Barry Johns, of Wokingham police, said: "The fireworks are designed for use by trained professionals and they are used in large displays and never sold for retail.
"They should have a large safety radius so could have fairly dire consequences in an average garden.
"The public should be aware of how dangerous these could be and only buy from businesses that have a licence to sell fireworks."
Related Internet Links
The BBC is not responsible for the content of external sites.