Berkshire stolen 'lethal' fireworks hunt continues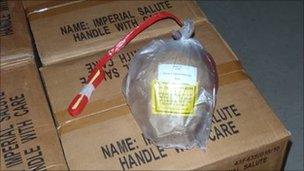 Police searching for a batch of "potentially lethal" fireworks stolen in Berkshire have released images of similar explosives to try to find them.
About £5,000 of fireworks were stolen from a warehouse in Waterloo Road, Wokingham in Thursday.
A number of professional-use aerial shells for large displays were taken.
The shells are launched into the air from metal cylinders with only a six-second fuse and should have a safety radius of at least 100m (330ft).
Police said the shells would be "highly-dangerous" if used incorrectly.
"The fireworks are unique to the company they were stolen from and can be identified," a spokesperson said.
"The owner of the company would also be able to identify any parts found after one has been let off and is very willing to help us with this if necessary."
Royal Berkshire Fire and Rescue Service added: "These are potentially lethal and could cause serious injuries and extensive burns when used by amateurs.
"They burn at high temperatures and could set surrounding items on fire. They are not designed for use outside of a professional display setting."
Related Internet Links
The BBC is not responsible for the content of external sites.