Two Berkshire soldiers unlawfully killed in Afghanistan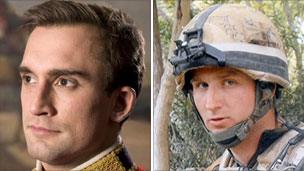 Two soldiers from Berkshire were unlawfully killed while on duty in Afghanistan, their inquests have ruled.
Lt Douglas Dalzell, of 1st Battalion Coldstream Guards, was killed by an explosive device in the Babaji area on his 27th birthday on 18 February.
Cpl Richard Green from 3 Rifles was killed by small arms fire near Sangin in Helmand Province on 2 March.
The coroner at the Newbury Town Hall inquests paid tribute to the servicemen.
Lt Dalzell, of Hamstead Marshall, near Newbury, was attempting to take over the area with colleagues, the hearing heard.
The leader of the platoon marked out a safe path for the others behind, with Lt Dazell following in third place, it was heard.
The men then heard a huge explosion and Lt Dazell was left lying on the ground within the safe lane that had been cleared.
He was treated at the scene but was later pronounced dead.
Expressing his condolences, coroner Peter Bedford referred to the fact that the soldier was posthumously awarded the Military Cross in the September operational honours list.
Cpl Green, 23, from Tilehurst, suffered a shotgun wound to the head as he patrolled a bazaar, his inquest was told.
Troops from the platoon accompanied by members of the Afghan National Army had been talking to local Afghans in the market and had set up a vehicle check-point when they were fired at from insurgents.
The coroner said he could find no issues with the soldiers' training or equipment, adding that sniper fire added a "third dimension of threat" to soldiers on patrol.
Afterwards Cpl Green's mother, Eileen, said she was "very proud" of her son, who was on his third tour of Afghanistan.
She added: "He was a fantastic lad, so brave. It's a relief it's over today but obviously our torment continues as it does for any family."
Related Internet Links
The BBC is not responsible for the content of external sites.