Slough Town Hall to be converted into new school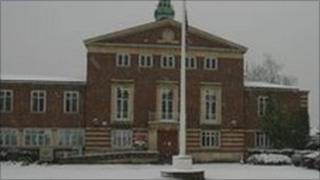 A Berkshire town hall will be turned into a school, councillors have agreed.
Slough Borough Council met on Tuesday night to discuss proposals to refurbish its former headquarters to create 420 school places.
The council said a £1.5m refurbishment would create primary places for up to seven years and would be cheaper than a new building.
The school will share the management structure of an existing school, to be decided by the council next year.
The council said the plan is a medium-term solution to a shortage of school places.
The original building, off Bath Road, was built in 1937, a year before Slough officially became a town.
Parts of it built in the 1970s have become dilapidated and are due to be demolished.
The hall failed in its bid to become a Grade II-listed building in February after it was not deemed to be of "sufficient architectural or historic interest".
'Flourishing'
A petition of 1,200 signatures was handed to Downing Street by the Campaign to Save Slough's Heritage.
It called for the building to be listed and to be put into community use for future generations to enjoy.
Campaigner Martin Gibbons said: "It is Slough's best loved building and is visible to everybody who travels through the town.
"I'm delighted that the council are going to reuse it very well as a flourishing primary school."