East Berkshire mental health beds may move to Reading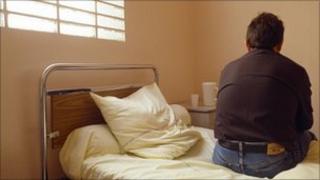 Mental health patients from Slough and Maidenhead could have to travel up to 20 miles to Reading for treatment if a cost-cutting plan is approved.
Residents have a week left to register their views on the proposals by Berkshire Healthcare NHS Trust.
The trust is trying to save £12 million over the next three years.
Two of three possible options would involve in-patients being treated at the purpose-built Prospect Park Hospital in Reading.
A third option is to build a new mental health unit in Slough, but health chiefs warned community services could be cut.
The trust currently provides hospital care from three sites in east Berkshire - Wexham Park in Slough, St Mark's in Maidenhead and Heatherwood in Ascot.
It wants to expand in-patient services at Prospect Park, and close outdated facilities at the other sites which are leased to the trust.
'Challenging' finances
Berkshire Healthcare Trust chief executive Philippa Slinger said: "The reality is that we need to make certain we have got top-class in-patient facilities for our patients.
"We can do that already in Prospect Park in Reading. We could do that as well in Slough but we'd have to build a new unit to do that and the finances behind building a new unit are incredibly challenging given the current economic situation, so we have asked people to help us decide which we should do."
Jane Hore's son recently spent 13 weeks at Heatherwood, which is two miles from her home.
She said: "I don't drive. My son has been to Heatherwood for several admissions for which I have been extremely grateful and I've been able to visit him most days.
"The days I was unable to visit he had always complained that I hadn't been there."
Residents can register their views until 30 November on the Berkshire Healthcare website.