Parents want to use former Wokingham school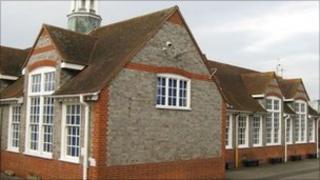 Parents remain hopeful of opening a new secondary school where one closed in July, despite council plans to sell off the site.
Wokingham Borough Council intends to sell the former Ryeish Green school site near Spencers Wood.
The parents want to make use of the coalition government's plans to set up new state-funded independent schools, called free schools.
The council said the sale would help pay for another new school.
Ryeish Green school closed following a decade of falling pupil numbers, which had dipped to under 700.
A leisure centre on the site, which remained open to the public, is also to close as the council says it is under-used and running at a loss.
Future plans
Parents say they have collected more than 200 signatures on a petition for a free school.
Their proposal is being examined by the New School Network - a charity supporting free school applications around England - before it is sent to the government.
One of the parents, Yvonne Maxwell-Billing, said they would challenge the sale as the council was trying to "make money at the expense of the local community".
Councillor Matt Deegan, executive member for community regeneration for Wokingham Borough Council, said the sale would help fund a new state-of-the-art secondary school planned for the Arborfield Garrison site five miles away.
He questioned whether re-opening a school at Ryeish Green would be viable.
"It's in the spirit of doing things for the local community, but I would come back to the reason why it shut in the first place - the falling pupil numbers.
"It would obviously mean we couldn't use the site to fund a capital injection for the new [Arborfield Garrison] school," he said.