AWE nuclear warhead workers' strike called off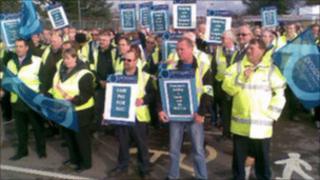 A one-day strike by workers at the firm that builds warheads for Trident, the UK's nuclear weapons system, has been called off.
Staff including nuclear scientists and engineers had been planning to walk out of the Atomic Weapons Establishment (AWE) in Berkshire on Wednesday.
More than 1,000 Prospect union members were to strike after being offered a pay rise of less than 2%.
The union said it would consult members on a new revised offer on Thursday.
Negotiator Bob King said: "Following an improved offer from AWE, we have notified our members that the industrial action planned for 1 December is now suspended.
"Pending a ballot on the improved offer, that offer will be discussed at a joint meeting of members to be held on Thursday, 2 December.
"Details of the offer will not be disclosed until they have been discussed with our members on Thursday."
Lunch protest
AWE had said the original offer was the best offer possible in the economic climate.
Last week, staff at AWE's sites in Aldermaston and Burghfield held a protest in their lunch break - believed to be the first action taken by workers in the company's 50-year history.
Rachel Whybrow, AWE spokeswoman, said: "The company and Prospect have held further constructive discussions aimed at seeking an agreed resolution to the 2010 pay review.
"There has been no disruption to normal working practices as a result of the demonstration last week, and staff are at work as normal."
Prospect, which represents 1,300 of the 4,000 people who work at the sites, had said the original pay offer did not reflect the success of the company.
It said workers were angry over the increased payments to the AWE board and level of dividends being paid to its controlling companies.