Man guilty of trying to kill Berkshire detective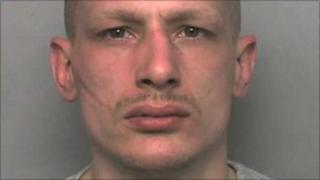 A man who stabbed a police officer in a robbery at a betting shop days after being freed from prison on licence has been found guilty of attempted murder.
Kes Nattriss, 28, stabbed Det Con Luke Simms in the stomach as the officer tried to arrest him at Corals in Bracknell, Berkshire, on 19 May.
He had been released part-way through a seven-year term for raids on off-licences and a bookmaker, police said.
Nattriss, of no fixed abode, will be sentenced on 10 December.
He admitted robbery and possession of an offensive weapon at an earlier hearing but was convicted of attempted murder at Reading Crown Court.
Police said five days after Nattriss was freed, Mr Simms and his colleague, Det Con Lisa Child, were at the Corals inquiring about an unrelated matter when Nattriss walked in.
'Acted courageously'
He headed to the counter and handed over a threatening message scrawled on a betting slip to a member of the shop's staff.
The poorly spelt note read: "Give me all the money and their won't be a seen".
However, Mr Simms, who was in plain clothes at the time, was standing nearby and caught a glimpse of the betting slip that had been handed over, police said.
The detective whispered to his colleague what was happening and told her they needed to call in assistance but as he tried to arrest the suspect Nattriss lunged at him with the knife.
The seriously injured officer was taken in a critical condition to Frimley Park Hospital where he underwent emergency surgery to staunch bleeding to his abdomen.
Nattriss was later arrested after officers spotted him getting off a train and getting into a taxi.
Det Supt Steve Tolmie said: "Nattriss showed complete disregard for the safety of any individual who decided to confront him on the day.
"Detectives Luke Simms and Lisa Child acted courageously in tackling him and they should be commended for their actions.
"Nattriss has also shown a complete disregard for law and order, as he committed these offences only days after he was released on licence."