Father delivers daughter's baby in car trapped by snow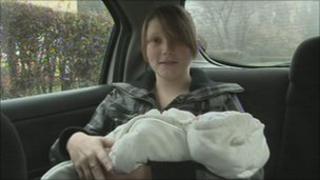 A father from Reading had to deliver his daughter's baby in the back of his car after they got stuck in snow.
Richard Rawlings, from Tilehurst, was driving his daughter Jade, 17, and her partner, Jonathon, 19, to hospital when Jade began to give birth.
Mr Rawlings delivered the baby using instructions from the 999 call taker.
He said: "Just before he was delivered I dropped the phone and I had the baby in my hands and I couldn't pick the phone up."
He added: "The ambulance arrived seconds after that."
Jade said: "I just needed to push on the way to hospital so we pulled over near a bus stop and that was when I had him."
The new parents have named their baby boy Caleb.