Rushy Mead wind farm 'would be ineffective'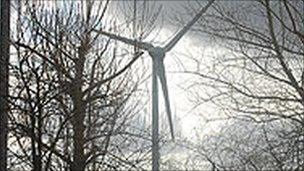 Campaigners against a Berkshire wind farm claim a study which ranks a nearby turbine as ineffective proves the idea should be scrapped.
The University of Reading is behind an application for four turbines on its land near the M4 at Rushy Mead.
But opponents say a survey ranking a turbine at Green Park 210th out of 218 shows there is not enough wind.
Partnerships for Renewables, which would run the Rushy Mead site, said its research showed it was windy enough.
The firm said the farm would generate enough electricity to power 5,500 homes.
The effectiveness of the Green Park turbine was calculated by the Renewable Energy Foundation.
The group said it used data obtained by the energy regulator Ofgem to work out how much energy turbines have produced as a proportion of their maximum.
Dr John Constable, from the foundation, said: "Sometimes the [Green Park turbine] will only be generating a trickle of electricity because the strength of the wind varies a lot.
"We tend to think the subsidy mechanism, and you have to remember these are very heavily subsidised devices, is encouraging people to go places where there isn't much wind resource."
But Ecotricity, which runs the turbine, said: "The purpose of the turbine is to power Green Park, a job that it is doing well.
"It is generating electricity for the equivalent of more than 1,000 homes."
The Householders Against Rushy Mead (Harm) said the survey proves the site was not appropriate which added to other concerns.
Jan Heard, from Harm, who lives about 350m (985ft) from the proposed boundary of the site, said: "We have been told that we will hear them, we are very close, in other areas in the world there are exclusion zones around turbines to protect residents.
"This can have long-term health effects."
Tom Brinicombe, from Partnerships for Renewables, said: "What we have done is have a monitoring mast on location for two years assessing the wind regime on site.
"This gives us a wind map and suggests it will be an appropriate site for wind energy."
Plans for Rushy Mead have been submitted to Wokingham council with the developers welcoming comments.
The original plan for six turbines was scaled back after BAE Systems feared they could affect the radar at Heathrow.
Related Internet Links
The BBC is not responsible for the content of external sites.