Reading students protest over fees plans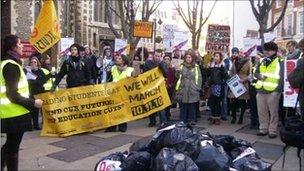 Students from Reading have taken part in demonstrations against the planned rise in university tuition fees.
About 150 students marched from the University of Reading to the town hall where they left symbolic black bin bags of debt in the square.
The were supported by trade unionists, other students, community campaigners and Reading residents.
Students also gathered for a protest in Market Square in Newbury ahead of Thursday's Commons vote on the issue.
Meanwhile the government has announced further concessions to the tuition fees plans.
The £21,000 salary at which graduates start to repay fees will be uprated each year by inflation from 2016 - not just every five years, as was planned.
But in the Commons Labour leader Ed Miliband accused ministers of "pulling the ladder" away from students.
David Cameron said Labour had no alternative to the "progressive" plan.
Related Internet Links
The BBC is not responsible for the content of external sites.