Aldermaston continues candle auction tradition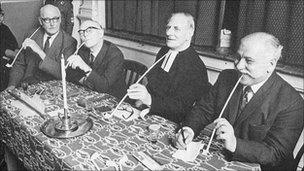 An age-old tradition of a candle auction has been held at a Berkshire village.
The ceremony, which is held every three years, sees people bidding to lease a local meadow while a candle containing a horse-nail burns.
The person with the bid when the nail drops out of the specially-made tallow candle is declared the winner.
The event, which originates from the early 1800s, was being held at Aldermaston Parish Hall from 1930 GMT.
The local vicar was the auctioneer for the night and church wardens, in-keeping with tradition, were given pipes, although they were not be allowed to light them.
Councillor Dave Shirt, Aldermaston Parish Council chairman, said: "[Bids are] initially at a leisurely pace, and tension increases as the flame approaches the nail and the wax around it begins to soften.
"At this stage the bidding becomes frantic, and the bid that is live at the time the nail falls out wins the auction.
"Candle auctions have a long history.
"It was traditional to hold ship auctions at Lloyds Coffee House at Tower Hill in London and Samuel Pepys describes the sale of three hulks in his diary entry for 3rd September 1661."
The piece of land up for grabs this year is called Church Acre in Fishermen's Lane.
Organisers believe Chedzoy in Somerset is the only other village in the country which still holds the tradition, although only once every 21 years.
Related Internet Links
The BBC is not responsible for the content of external sites.