Slough Tesco store stopped by Competition Commission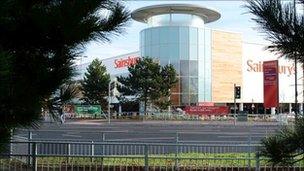 The retail watchdog stopped Tesco from opening a new development in Berkshire over competition fears.
The supermarket giant acquired the old Co-op site in Slough seven years ago but the Competition Commission intervened as it had a store nearby.
Morrisons applied to take over the site but Sainsbury's was successful and opened in November creating 320 jobs.
The "big four" chains opened at least 583 stores across the UK in the two years to 2008, BBC research has found.
The BBC asked each local authority to reveal how many planning and advertising applications from Tesco, Morrisons, Asda and Sainsbury's were approved, as part of research into the number of new stores across the UK.
Across Berkshire there were seven successful applications; three in Windsor and Maidenhead, two in Reading, and one each for Slough and West Berkshire.
Bracknell Forest and Wokingham did not have any applications.
Tesco had originally bought the Uxbridge Road site from Co-op in 2003 and had started work on four new retail units on the site, one of which would trade as a grocers.
However as it already had a large store in nearby Brunel Way, the Office of Fair Trading (OFT) said it would reduce competition and choice.
An investigation was carried out by the Competition Commission, an independent body which monitors the retail market.
"The investigation found that Tesco had indeed reduced competition in Slough by buying the nearby store and was therefore ordered to sell it to a competing retailer," a Competition Commission spokesman said.
"Both Sainsbury and Morrisons were in the running to buy the store and both applied for planning permission so that either could start work on the site as soon as a decision on the successful bidder was made."
The commission ordered Tesco to demolish the development, where work on a retail park had already been half-completed.
Tesco did trade from the site for a short period in 2004 while work on its original store was being carried out, but the site remained empty until Sainsbury's was announced as the preferred store.
In November, a new 55,000 sq ft store opened.
Councillor Shafiq Chaudhry, who represents central ward on Labour-led Slough Borough Council, said the store was good for the local community.
"In the beginning, there was a bit of concern that opening a new supermarket a few yards away would affect businesses," he added.
"People like to have different stores, that means more competition, which is good.
"That piece of land was lying empty for a long time, it used to look quite awful. It now makes the area look very impressive."
Sainsbury's said the store had been "very well received" by the local community and was trading well.
A Tesco spokesman said: "Our involvement in this site finished over two years ago when the competition authorities published their decision.
"We had always intended to redevelop and sell the Co-op site, which we had traded from temporarily so that we could continue to offer a good service to local customers while we were improving our existing store which was hugely popular.
"We always put customers first and we have created tens of thousands of jobs, many in the most deprived areas of the country."
Related Internet Links
The BBC is not responsible for the content of external sites.