AWE nuclear staff accept new 2.5% pay deal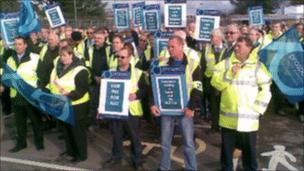 Workers at the firm that builds warheads for Trident, the UK's nuclear deterrent, have voted in favour of accepting an improved pay offer.
Staff held a protest last month at the Atomic Weapons Establishment (AWE) in Berkshire after being offered a pay rise of less than 2%.
Employees had planned a one-day strike but the action was called off.
The Prospect union, which represents 1,300 workers, had urged members to accept the improved 2.5% pay rise deal.
The union said members "voted overwhelmingly in favour" of accepting the offer and the salary rise would be paid in January.
Bob King, Prospect negotiator, said: "We are pleased with the outcome.
"It is now down to both sides to work together to resolve our industrial relations issues and review the pay system here at AWE."
AWE had originally said the offer was the best offer possible in the economic climate.
In November, staff at AWE's sites in Aldermaston and Burghfield held a protest in their lunch break - believed to be the first action taken by workers in the company's 50-year history.
Prospect, which represents 1,300 of the 4,000 people who work at the sites, had said the original pay offer did not reflect the success of the company.
It said workers were angry over the increased payments to the AWE board and level of dividends being paid to its controlling companies.
Related Internet Links
The BBC is not responsible for the content of external sites.