Slough High Street bollards to block rat run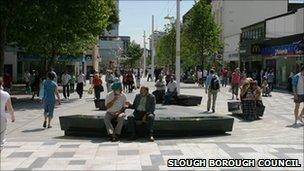 Access to Slough High Street is set to be restricted in a bid to stop motorists using it as a "rat run".
Bollards will be in place on Park Street at the entrance to the pedestrianised area 24 hours a day.
They will also be in place on the High Street off the junction with Windsor Road during shopping hours.
A number plate recognition system linked to CCTV will allow taxis and buses entry and blue badge holders will be allowed manual access.
Joe Carter, Slough Borough Council's head of transport, said the measures had been taken because the street had frequently been used by motorists cutting through.
"This causes a danger to pedestrians, access problems for buses and blocking of the taxi rank," he said.
"The rising bollard will prevent access for vehicles which are not supposed to be there, which we hope will make a better shopping environment for everyone."
Warning signs will be erected alerting drivers of the risks of following vehicles that are permitted to pass through.
"Anyone who does try to go down that stretch during the prohibited times will find their way blocked," Mr Carter added.
"If they think that sneaking down just behind a bus might work, I'm afraid it won't, and they could do severe damage to their car."
Councillor James Swindlehurst said he believed the pedestrianisation of the High Street had "brought shoppers back to Slough."
"The new rising bollards on the High Street will keep the High Street safe for shoppers," he said.
Related Internet Links
The BBC is not responsible for the content of external sites.