Heavy snow cause travel problems in Oxfordshire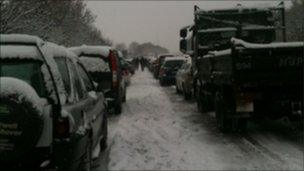 Up to 8in (20cm) of snow has fallen across Oxfordshire causing severe problems on the roads.
With temperatures around freezing or below, drivers have been warned to take extra care on the roads which are also icy.
Motorists were stuck in queues along the M40, A40 and A34 and other routes and many bus and train services around the county have been suspended.
Police said people should only travel if "absolutely necessary".
They said the last weekend before Christmas was expected to be one of the busiest of the year on the roads but urged people to plan their trip if they had to travel.
A spokesman said: "Drivers are urged not to abandon their vehicles, especially where they may obstruct emergency service vehicles and major roads or motorways.
"If they do, the vehicles may have to be removed and it will be the driver's responsibility to pay for the cost of recovering them."
Drivers who do venture out on the roads are urged to prepare themselves by packing warm clothes and blankets, boots, food, drinks, a mobile phone, torch, jump leads, tow rope, first aid kit, warning triangle, de-icer and a shovel.
"Tell someone where you are going and when you expect to arrive," the spokesman said.
People planning to travel by train or bus are advised to check on the operator's website for the latest information as many services have been cancelled or delayed.
Related Internet Links
The BBC is not responsible for the content of external sites.