New woodland to boost habitats in Berkshire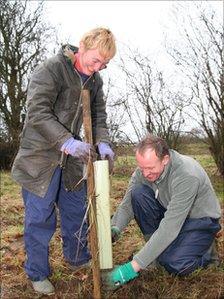 A new woodland is to be planted in Berkshire with volunteers asked to come forward to help plant 3,000 trees.
The project at Moor Copse Nature Reserve in Pangbourne aims to create more habitats for insects, including butterflies and birds.
The two-year-old trees have been grown at a nursery in Oxfordshire by the Berkshire, Buckinghamshire and Oxfordshire Wildlife Trust.
The trust is seeking help to plant the new woodland on 15 January.
The organisation manages 80 nature reserves across the three counties.
Wendy Tobitt, from the trust, said: "The trees were not hugely expensive to grow which is very important as we rely totally on donations.
"About 30 years ago we acquired the land which has been transformed into the Moor Copse Nature Reserve.
"Gradually we have extended it and have an area which we can now use for this new woodland.
"It will benefit a range of insects and animals but especially butterflies."
All the trees have been locally grown and include ash, oak and wild cherry with hazel, holly and hawthorn among the smaller species.
Related Internet Links
The BBC is not responsible for the content of external sites.