Puppies dumped in Berkshire days before Christmas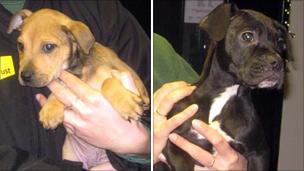 Two 12-week-old puppies will spend Christmas recovering at a rescue centre after they were found dumped in freezing conditions in Berkshire.
The animals, who have been named Brandy and Pudding, were discovered by a dog warden in Reading on Wednesday.
Staffordshire Bull Terrier Brandy was left on a street while Boxer-cross Pudding was found in snowy woodland.
The pair, who may have been bought as Christmas presents, are recovering at the Dogs Trust in Newbury.
They will be rehomed in the new year.
Maureen Iggleden, rehoming centre manager, said: "We suspect Brandy and Pudding may have been bought as Christmas presents and dumped when their owners realised the work involved in looking after a puppy.
"Our centre looks after hundreds of abandoned and unwanted dogs every year but it still shocks us to think that someone could so callously abandon a puppy, especially in these weather conditions."
Dogs Trust chief executive Clarissa Baldwin, who coined the famous slogan "A dog is for life not just for Christmas", added: "Sadly there are still people out there who think pets are as disposable as Christmas wrapping paper."
To help discourage people from buying dogs as presents the charity's 17 rehoming centres have put a hold on rehoming dogs from 19 December to 2 January, 2011.
People are still able to visit the centres and reserve a dog, but will not be able to take it home until the new year.
Related Internet Links
The BBC is not responsible for the content of external sites.