Berkshire police officer prepares for Atlantic voyage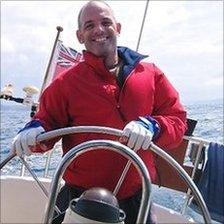 A Berkshire police officer is making final preparations ahead of a 3,000-mile journey across the Atlantic Ocean.
John Denard will set sail for Barbados from the Canary Islands on Monday for the challenge as part of a four-strong team.
The crossing is set to take four weeks and the crew will finish in the capital Bridgetown.
Mr Denard, of Thames Valley Police, is raising funds for the Marie Curie Cancer Care in memory of his mother.
He said: "Mum's passing utterly devastated our very close family.
"When invited to crew a 36ft yacht across the Atlantic Ocean I saw a fantastic opportunity to raise a sum of money for Marie Curie Cancer Care.
"It is not without its risk, it is the main shipping route for very, very large vessels.
"Also, there is a lot of debris floating around in the Atlantic... the worst case scenario would be that we would strike one of those or be struck by one."
Mr Denard thanked all those who have made donations to his challenge so far and is hoping to raise more than £3,000 for the charity.
Related Internet Links
The BBC is not responsible for the content of external sites.