Dog survives six-week winter walk in rural Berkshire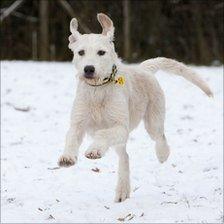 A lost dog which gave villagers the run around for more than six weeks as it braved sub-zero temperatures in rural Berkshire has finally been rescued.
The mink hound, named Angel, is believed to have survived the freezing conditions by foraging for scraps.
Wearing a red collar, she was spotted in Axford, Wilts, on 6 November before sightings were reported in Ramsbury, Enborne, Speen and Hungerford.
Angel was eventually rescued by the Newbury Dogs Trust on 16 December.
Assistant manager Jenny Hopkins, who had to use a specialist net to catch Angel, said the dog had relied on its animal instincts to survive.
"She would have probably travelled up to 30 miles a day for six weeks.
"We knew it was her because of the descriptions people were giving of her - she's a scruffy hound and most are smooth.
"I was out trying to catch her myself, but she wasn't accepting of people because she was so frightened.
"We even set up dog traps, but she wouldn't go in them.
"The villages were very rural. She disappeared for a few days before being spotted again and it was possible she was going down the tow-paths along the canal which had iced up.
"It was just survival of the fittest."
Paula Boyden, deputy veterinary director at the charity, added: "Given the weather conditions that we have experienced over the past few weeks, I am surprised to hear that she survived and was picked up in such good condition.
"However, with temperatures due to plummet to well below zero again, the challenge of finding food and shelter may well have proven to be an impossible task if she had not been rescued."
Related Internet Links
The BBC is not responsible for the content of external sites.