Reading rail station bridge lifted into place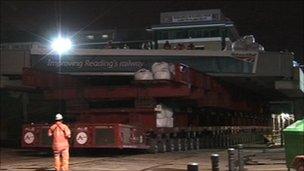 A new 1,000-tonne railway bridge has been lifted into place at Reading station.
The bridge is part of a £850m overhaul which will include five more platforms, two new entrances and a viaduct.
Engineers used specialist equipment to slide the bridge into place over Caversham Road during the early hours and work was completed to plan.
Network Rail said it was "confident" services would be back to normal on Tuesday following recent disruptions.
A bank holiday service has been scheduled over the weekend and on Monday.
Improvement works, which will remove a major bottleneck in the rail network, saw the station and the Caversham Road closed over the Christmas period.
The bridge will eventually carry rail track to new platforms.
Work to reorganise traffic flows and road layouts around Reading town centre ahead of the project began in June.
David Wilson, from Network Rail, said passengers would feel the benefit when the project was completed in 2016.
He said: "The main benefits from it will come later in that it will transport the new track which will serve the new platforms. Passengers won't see much difference but behind the scenes a massive amount has changed."
Related Internet Links
The BBC is not responsible for the content of external sites.