Reading railway station train services resume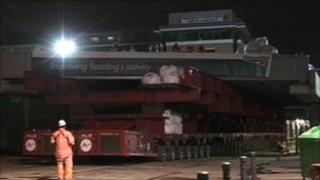 Train services at Reading railway station are returning to normal after they were suspended for the first step of an £850m overhaul.
A new 1,000-tonne railway bridge was lifted into place over the new year weekend and major signalling works took place the week before.
Network Rail's revamp will eventually also include five more platforms, two additional entrances and a new viaduct.
No trains ran from 27 to 30 December and services were reduced at new year.
Engineers used specialist equipment to slide the bridge into place over Caversham Road during the early hours of New Year's Day.
The bridge will eventually carry rail track to new platforms.
Work to reorganise traffic flows and road layouts around Reading town centre ahead of the project began in June.