Force inundated with ice crashes in Thames Valley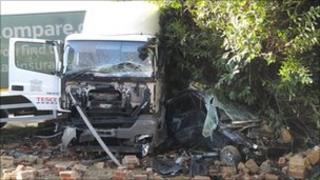 Thames Valley Police said earlier icy conditions contributed to dozens of calls about road collisions.
The force, which covers Berkshire, Oxfordshire and Buckinghamshire, said about 95% of its calls this morning were about crashes.
South Central Ambulance service said there were more than 30 collisions between 0645 and 1030 GMT in Oxfordshire and Buckinghamshire.
Seven vehicles crashed into one wall near Wallingford in Oxfordshire.
David Matthews, who owns the wall on the A4130 Gangsdown Hill at Nuffield, said a Tesco lorry which smashed into his property was the seventh vehicle to hit it that morning.
The Crowthorne Bypass, in Berkshire, was closed following a serious accident.
Five cars lost also control on the A329(M) between Bracknell and Reading.
Oxfordshire Fire and Rescue Service were called to deal with a string of collisions along the A40 between Headington and the M40.
Black ice formed on some roads, despite them being gritted, but police said some motorists were driving too fast for the conditions.
Gritting lorries were back out earlier and police advised motorists to delay their journeys until roads had been treated again.