'Invisible' Bracknell biker jailed for girlfriend's death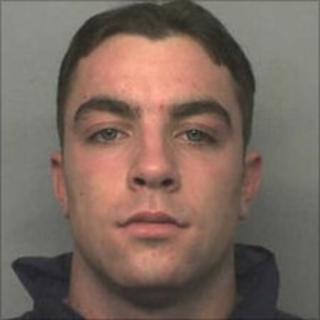 An uninsured biker who was "invisible" to other road users has been jailed for killing his teenage girlfriend.
Adam Philip Murphy was found guilty by a jury of causing the death of 16-year-old pillion passenger Rebecca Young by dangerous driving.
The 19-year-old rode the motorbike with its headlights covered before it collided with a taxi on Ringmead, Bracknell, Berkshire, in August 2009.
Murphy, of Moordale Avenue, was imprisoned for four-and-a-half years.
He was also found guilty at Reading Crown Court on Thursday of causing death while driving without a licence and driving without insurance.
'Obvious danger'
Rebecca, who on the back of on Murphy's 1,000CC Yamaha motorbike, was flung from the vehicle and her helmet came off.
She suffered a serious head injury in the crash on the Great Hollands estate and died in hospital on 1 September, three days after the crash.
Thames Valley Police said the pair were "invisible" to other motorists at night, as Murphy had fitted covers to his headlights and both were wearing dark clothing.
Speaking after the hearing, Sgt Paul Coleman, who investigated the collision, said: "Murphy had made an illegal modification to this bike by riding it with headlight covers in place, therefore putting himself and his young pillion passenger in obvious danger.
"Murphy knew of the dangers yet still decided to use the bike in that condition.
"In doing so, Rebecca Young who had only just turned 16, lost her life and a family have been devastated by the loss of their daughter and sister."