Oxfordshire men guilty of £50m Dutch cannabis plot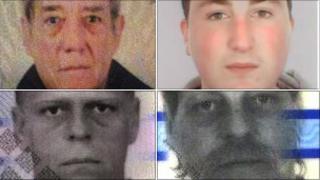 A gang of four men have been found guilty of smuggling £50m worth of cannabis into the UK.
Barry Haydon, 68, and Ivan Marshall, 26, both from Oxfordshire, and Dutch nationals Miquel Sempel, 43, and brother Nicolaas, 52, were convicted.
The gang used the cover of a textile firm run by the brothers to import 30 loads into the UK in 2009 and 2010.
They were arrested when £2m worth of cannabis was found in a consignment of clothes at Harwich port in Essex.
The Sempel brothers and Marshall will be sentenced on 16 February while Haydon will be sentenced on 10 March, all at Isleworth Crown Court.
The Sempel brothers were arrested on 26 March last year when they arrived to collect the load from a freight agent in Hounslow, west London, using a van hired by Marshall with Haydon as a named driver.
'Significant operation'
Haydon was arrested at his home later that day, while further inquiries tracked down Marshall to his home in Eynsham where he was arrested in July, the UK Border Agency said.
Investigators found that the gang had created false invoices for onward sale of the clothing to cover their tracks.
It is now thought that they were responsible for bringing in an estimated 16 tonnes of cannabis, with a street value of around £50m, the UKBA said.
Jim Jarvie, from the UK Border Agency, said: "This was clearly a significant smuggling operation, worth many millions of pounds.
"These men were heavily involved in the drugs trade, and the quantities involved show that this gang were major players in smuggling cannabis into the UK."
The Crown Prosecution service said it will seek to confiscate the man's assets gained from the offences.
Marshall, from Eynsham, and the Sempel brothers, were found guilty of importing Class B drugs.
Haydon, from Burford, was convicted of conspiracy to import Class B drugs.
Nicolaas Sempel failed to attend court for the trial but was convicted in his absence. A warrant for his arrest has been issued.