Crayfish damage Kennet and Avon Canal banks at Newbury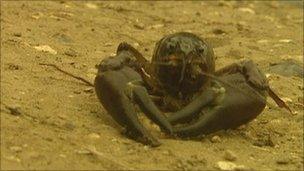 A canal which runs through Berkshire is being damaged by an invasive species of crayfish.
American signal crayfish are tunnelling the banks of the Kennet and Avon Canal at Newbury.
British Waterways is spending £250,000 on dredging works on the stretch between Hambridge Road and Bulls Lock and at Greenham Lock.
The dredged mud will be used to repair the banks and will be held in place with material and planted with reeds.
The material used to stabilise the banks will make it harder for the crayfish to tunnel.
The canal, which runs between Reading and Bristol, opened in 1810.
Related Internet Links
The BBC is not responsible for the content of external sites.