Nepalese community in Berkshire town to receive £45,000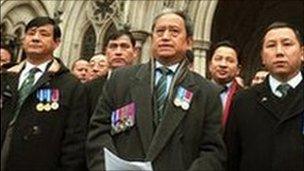 The growing Nepalese community in Reading will receive £45,000 of funding from the town's borough council.
Thousands of ex-Gurkhas and their relatives have chosen to settle in the UK having successfully acquired British settlement rights in 2009.
Reading and Hampshire are focal points for Nepalese migration.
The funding will see three linked projects establish a community-led system of support to allow the Nepalese community to help itself.
It is intended to ensure newcomers to the town are able to integrate, become socially and economically active and are able to understand life in the UK.
Under the proposal, £25,000 will be passed to the Reading & District Citizens Advice Bureau to provide a series of information sessions in East Reading for Nepalese migrants.
The same pot of money will help fund a community advisors training programme, open to young members of the Nepalese community.
A community coaching programme will be set up aimed at supporting Nepalese women who would then become community coaches.
Reading Voluntary Action will receive £16,100 to create the new post of development worker for the Nepalese community.
The worker will ensure community members are accessing services and help already available to them.
A further £3,900 will go directly to the Greater Reading Nepalese Community Association (GRNCA) to rent office space which will allow them to establish a local base in East Reading.
The council hopes the money will provide the necessary kick-start to help the Nepalese community train up volunteers.
Krishna Neupane, vice-chair of the GRNCA, said: "The number of Nepalese citizens living in the Reading area has reached close to 5,000 recently.
"This number is made up of diverse cultural groups, including ex-Gurkhas and their dependants, highly skilled migrants and students.
"Integrating such a diverse group has been a big challenge which the GRNCA has had many meetings about with Reading Borough Council officers and councillors."
Gyanraj Rai, spokesman for the ex-Gurkhas in Reading, said: 'The retired Gurkhas are very happy that Reading Borough Council has seen fit to find money to assist settling in Reading.
"The way the money is divided will allow the provision of a focal point for ex-Gurkhas, many who don't have much English, to get advice where they have no experience of the protocol expected."
Related Internet Links
The BBC is not responsible for the content of external sites.