Kate Middleton's home village plans wedding party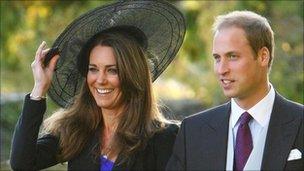 Party plans for Prince William's marriage to Kate Middleton are well under way in the bride's home village.
Celebrations are planned across the parish of Bucklebury in Berkshire where Miss Middleton grew up and where her parents still live.
The village church and local pubs have planned events while the parish council is hoping to hold live music and a hog roast at Bucklebury Farm Park.
William, 28, and Kate, 29, will marry at Westminster Abbey on 29 April.
Reverend Julian Gadsby, priest in charge of the Berkshire parishes of Bucklebury, Bradfield and Stanford Dingley, said they had several celebrations planned at the church.
Ringing out from the picturesque village church will be a special full peal of bells after the service - lasting an impressive three hours.
And a special service will be held the following Sunday which will include prayers for the couple's marriage, Mr Gadsby said.
"This is a very exciting time for this whole community and like so many people in this country we are delighted for Prince William and the Middleton family, Kate Middleton in particular, about their forthcoming wedding," he said.
"Weddings are a wonderful occasion anyway. People are so happy, it combines communities, it enables people to be joyful - we are just thrilled.
"Marriage is such an important part of our society and we want to see marriages work and succeed and be very long and very happy."
As well as events at the church, local pubs, including the Bladebone Inn - just a stone's throw from the Middleton family home - are all holding special celebrations to mark the occasion.
Wynne Frankum, chairwoman of Bucklebury Parish Council, also said an event was being planned at the Bucklebury Farm Park for people from the parish.
She said it will hopefully include a hog roast, live music and entertainment.
"The pubs are doing their own things, but there is an event at the farm park that the parish is doing for the parish," she said.
"There are a lot of people who maybe wouldn't want to go to the pub, so we're having this big parish event in the farm park in the afternoon.
"It's nice to mark the event with something for everyone. Everyone is very excited."