Will 20mph zones work in Reading?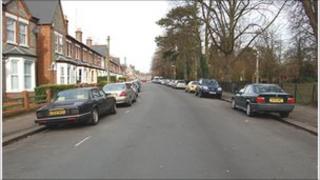 Hilary Kemp lives on St Bartholomew's Road in Reading and has a Twenty's Plenty poster in her window.
The social worker and mother has witnessed her street, opposite Palmer's Park, become a "rat run" over the nine years she has lived there.
A couple of years ago her cat was run over and killed, but she fears more serious road accidents will happen if the current 30mph restriction remains.
"Cars speed down here," she said. "One day there will be fatality."
She added: "You can see the cars are parked bumper to bumper, you take your life in your hands.
"Little children crossing to get the park have to be significantly far out in the road to see if there's anything coming and if the cars are coming very fast. It's very scary."
Lives saved?
Her fears come amid a fresh call by the Green Party for a 20mph limit across all residential roads in Reading, like in Portsmouth and Oxford.
Keith Taylor, Green MEP for Sussex and the South East, said: "Introducing 20mph can make a real difference to a town like Reading.
"It can save children's lives."
He added: "In both Portsmouth and Oxford 20mph residential streets have reduced the speed of traffic without the need for other traffic-calming measures."
Portsmouth City Council has reported a 22% reduction in recorded road casualties since introducing its city-wide 20mph zone.
However, AA head of road safety Andrew Howard said it was hard to define what a residential road actually is.
"There are some where its sole function is to get you to and from your house, there are others where the much greater function is getting people around town.
"If a road is a bus route or bigger, its prime function is carrying people around and can't really be a 20mph limit."
Blanket 20mph zones
In the case of St Bartholomew's Road, it is a seen as a short cut to the M4.
Reading borough council's head of transport Councillor Richard Willis said the town would not be emulating Portsmouth and Oxford in having a blanket 20mph restriction across the whole authority.
He added that he was looking at creating 20mph blocks across connecting streets instead.
"But what we want do is look at this as a bit more of a whole and say that in some cases it's ridiculous that you've got a 20mph road that then has another road off it that is not 20mph.
"So in theory you could accelerate to 30 going into a residential side road.
"We've got to tidy this up and make some more sense out of it."
He said the council was looking at how to implement a 20mph zone.
SpeedWatch
"You can't just put signs up and expect people to follow them, they've got to be able to be enforced."
He added that the council would be happy to look at a scheme similar to Community SpeedWatch, currently active in 40mph areas, that gives residents a speed gun to monitor drivers' speeds.
A speeding driver is not be fined but receives a letter from the local police authority indicating he or she has been caught speeding.
He said: "Last year the council bought a number of handheld speedguns precisely for those purposes so that local residents in areas where there are particular problems can go out and use those."