Brother react against Liam Gallagher jibe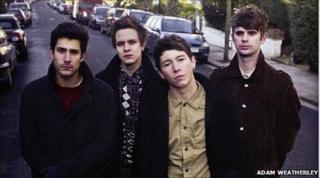 Slough band Brother have reacted against Liam Gallagher's comment that the band are "little posh boys with tattoos".
"He's the one living in a mansion," says frontman Lee Newell of the former Oasis singer.
Brother have been hailed as Brit Pop revivalists, which may have prompted Gallagher to make his remark.
"We're certainly not posh. There's nothing wrong with that, but no we're not," Lee says.
"I grew up in quite a modest area of Slough, my parents worked hard and got a bigger house and blah blah blah."
Lee went to Burnham Grammar and played his first gig in a Slough tandoori restaurant, being paid in curry.
Geffen Records
Now, Lee and his band have a lucrative deal with Geffen, being signed within two months of launching themselves on the gig circuit.
But do not be mistaken that Brother are merely caught up in a whirlwind of hype. The band have almost meticulously planned their rise to fame.
"We got together about 18 months before we got signed," says Lee.
"We took a bit of a different approach. Rather than play the 'toilet tours' over and over again we thought we'd keep it to ourselves for a while until we were 100% happy with it and were sure we were good enough live."
"When we finally were happy enough with our band we launched it and within two months we were signed."
Their first gig was with Paul McCartney's son James in Brighton, and they've just completed a tour that was mostly sold out.
Currently they are on another tour supporting The Streets and then they are off to the world famous music showcase event, SXSW Festival in Austin, Texas between 15 and 30 March.
Stephen Street
Their current single, Darling Buds Of May, and forthcoming as-yet-untitled album (out on 4 July) has been produced by Stephen Street, who has worked with Blur, The Smiths and Kaiser Chiefs.
"It was an absolute honour," says Lee. "He was like a hero of ours growing up so to actually work with him was incredible.
"He was responsible for a lot of our favourite albums.
"He was so nice and he made us work really hard and I think we've created something really brilliant with him."
So it is all looking good for Brother, whose members Sam Jackson and Frank Colucci used to be in Twice Upon A Time, a band that played the Reading Festival after winning a BBC Berkshire Introducing talent search in 2006.
Berkshire gigs
But despite being the band of the moment, they have not forgotten their roots and are playing two gigs in Berkshire.
They are coming to Play, Milford Road, Reading on Monday 11 April and then they are playing a hometown show at Slough's West Wing arts centre, Stoke Road on Sunday 8 May.
"This is where we've grown up," says Lee.
"We're not going to pretend we're not from there anymore, we're quite proud to grow up there and it would be nice to go back as a band who are doing something."