Windsor-based Army horse Denzil retires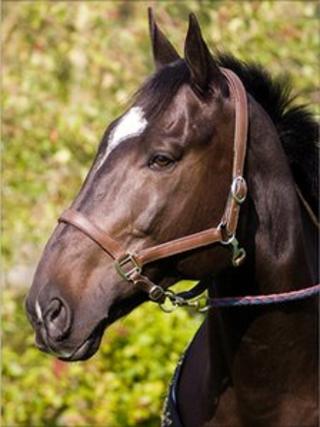 A horse that served the Army in Windsor has retired at the age of 19.
Denzil spent the past six years taking part in ceremonial duties and teaching people to ride for the Light Cavalry Honourable Artillery Company.
Stable manager Caroline Quested says he is one of their most popular horses but is retiring because he has arthritis.
Denzil was in the limelight in 2008 when he chewed a fire alarm box and set off the alarm at 0200 GMT, calling out Windsor Fire and Rescue.
He also took part in equestrian displays and taught people of all ages to ride, including children from local schools and Windsor Horse Rangers.
Ms Quested said: "He's probably the most ridden horse we have. He was really good with beginners as he was very patient."
She added: "But if you knew how to ride, you had to know what you were doing as he didn't suffer fools gladly."
In his time with the Light Cavalry HAC, based at Flemish Farm, Denzil had various ceremonial duties, including escorting the Lady Mayoress at the Lord Mayor's Show in London each November.
The dark bay gelding started his Army career with The King's Troop Royal Horse Artillery.
He then moved on to the Royal Army Veterinary Corps and the Royal Engineers Saddle Club.
Denzil, who measures 17.2 hands high (1.7m), has been taken to the Home of Rest for Horses in Speen, Buckinghamshire, which is run by the Horse Trust.
Trust chief executive Jeanette Allen said: "We are delighted to provide sanctuary to Denzil at the Horse Trust after all his hard work for the military.
"We hope he will enjoy his retirement here and won't get in too much trouble."