Father of Cpl Richard Green backs war against Taliban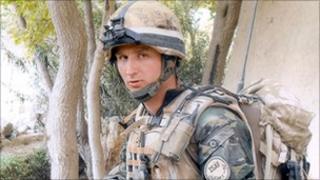 The father of a Reading soldier killed in Afghanistan has said he still supports the war against the Taliban.
Cpl Richard Green, 23, was shot dead at a checkpoint near Sangin in Helmand Province on 2 March 2010.
He was part of 3 Rifles Recce Platoon and was at a patrol base alongside the Afghan National Army when he died.
Speaking on the first anniversary of his son's death, Chris Green said he believed the war in Afghanistan was worth fighting.
"We've met a lot of his friends since he died," he said. "We met the blokes who were there when he died.
Sky lanterns
"They all believe that we should be out there, because otherwise there would be trouble in Britain.
"I believe it and Richard believed it.
"I believe I'll miss him forever and always."
Sky lanterns were released at the time Cpl Green was killed, at 0555 GMT, (1025 in Afghanistan) - on the anniversary of his death.
"Richard's family and friends are spread all over the place, especially the Army guys," said Mr Green.
"Richard was aged 23, so today 23 of his friends and family will release sky lanterns wherever they are.
"His army platoon is in Kenya, so they will release one over there, and there will be lanterns going up in Edinburgh, Chepstow and Bristol.
"They will be going up all over Britain."
A team of runners set up in honour of Cpl Green is also aiming to raise at least £10,000 in his memory on 20 March.
Among the Team Green members will be L/Cpl James McKie, of 3 Rifles Recce Platoon, who served in Cpl Green's section in Sangin.
The day after Cpl Green was killed, L/Cpl McKie saved the life of two fellow soldiers by throwing back a live Taliban grenade.
For this action he has been awarded the Conspicuous Gallantry Cross.
Money raised by the team will go to The Rifles Care For Casualties appeal, a charity which supports the wounded, their families and the families of the fallen of The Rifles.