Theale business park fire blamed on gas cylinder fault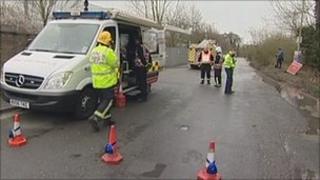 A fire which led to the evacuation of a number of offices and disrupted train services in Berkshire has been blamed on a fault with an acetylene cylinder.
A 200m (650ft) cordon was put in place at the Kennet Weir business park in Theale on Monday amid explosion fears.
The fire service said the person using the cylinder heard a bang coming from the canister's pressure regulator which blew apart and emitted a flame.
The firm said the equipment had been tested in line with regulations.
Train services around Reading were disrupted as the cordon affected the rail line while workers at nearby offices were moved to safety.
The cordon was reduced to 50m (162ft) before it was fully lifted when the cylinder was removed on Tuesday.
Acetylene is a relatively cheap and versatile gas which is used primarily by welders and mechanics.