Pig owners protest about cost of running business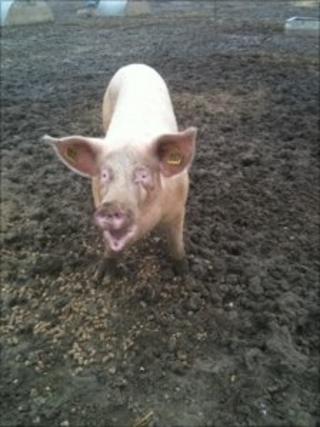 A Bucklebury pig farmer says she is struggling to survive due to the rising costs of feed and low prices at supermarkets.
Hundreds of pig farmers are holding a rally outside Downing Street to appeal to the government to help their industry.
They say they are being forced out of business. Kate Munro-Ashman says she is losing £20 for every pig she farms.
Speaking at her Berkshire piggery, she pointed out the individual 20m pens and wallows which give her pigs the freedom to move around.
Higher standard
"If they want to dig and roll in the mud they can, " she said. "They are placid because they can use their natural instincts and do whatever pigs want to do.
"We've got happy pigs and that's what I like to see. British pork is produced to a higher standard."
According to Barney Kay of the National Pig Association, if British farmers cut pork production or go out of business, consumers will lose the choice to buy high welfare produce.
They could also face far higher prices in the long term as supply falls.
Mrs Munro-Ashman said the industry was suffering.
"Unfortunately for pig farmers, corn has doubled in price, and our pig feed has doubled in price," she said.
"We're hoping the Government will stand behind farmers and say to the supermarkets, give us a bit of a fairer deal.
"At the moment pig farmers are losing £12 million a month, while the supermarkets are making £64 million. They need to pass a little bit more back to producers."
Richard Dodd, of the British Retail Consortium, said that farming was a cyclical business, and the farmers' plight was not necessarily caused by the supermarkets.
"There's no question that pig producers are under pressure at the moment, " he said. "It's coming from rising feed stuff prices; wheat is 80% more expensive than it was last year, and the collapse of most of their export market in Europe, which is to do with food scares happening in Germany.
"If pork and ham became more expensive for customers people would just buy less. Supermarkets have very narrow margins, and 82% of pork and ham in supermarkets is sourced in the UK."