Reading Church of England priest moves to Catholicism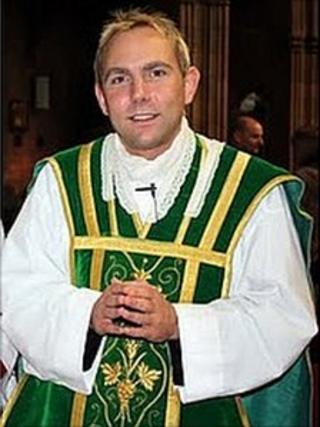 A Church of England priest from Reading has resigned from his post to join a new section of the Catholic Church.
Father David Elliott and up to 15 of his Anglican congregation will join parishioners and clergy nationwide who plan to convert to The Ordinariate.
Pope Benedict established the Ordinariate for Church of England members unhappy over issues such as the ordination of women bishops.
The Church of England said movement between churches was "two-way traffic".
Father Elliott, who resigned from the Church of the Most Holy Trinity in Reading, said he felt the Church Of England was no longer "united".
"Oneness is incredibly important in Christianity", he said.
Ordinariates allow Anglicans opposed to developments including women bishops, gay clergy and same-sex blessings to convert to Catholicism while maintaining some of their traditions.
'Spaghetti junction'
Father Elliott, 36, said: "Many of us had hoped in times past that the Church of England would as a whole be reconciled with the Catholic Church.
"It has however chosen another path and, surrendering its birthright by craving the Zeitgeist, has forfeited the blessing of unity."
Father Elliott and up to 15 of his congregation will join the Ordinariate at St James' Catholic Church, Reading.
They will begin worship there on Ash Wednesday and will be officially received into the Roman Catholic Church during Holy Week between 17 and 23 April.
Father Elliott said that more of his congregation would be joining the Ordinariate at a later date.
"There are people on a list who are wanting to come, but not on the first wave."
He added that he knows of more priests around the country who "are coming over on the second wave" later in the year.
Church of England spokesman Steve Jenkins said that "movement between churches is like a spaghetti junction".
He said that official figures show 14 Roman Catholic priests have converted to the Church of England in the past five years.
The Bishop of Oxford, the Rt Revd John Pritchard, said that he wished Father Elliott well, and was "looking forward to the time when all divisions within the Christian Church have melted away."