Shinfield Road traders concerned about traffic lights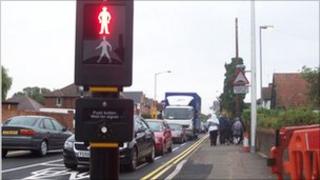 Reading residents and businesses are bracing themselves for road closures in the Shinfield area.
Wokingham Borough Council has closed Elm Road between Shinfield Road and Elm Lane until the end of May so Southern Gas can carry out mains renewal work.
At the same time Reading Borough Council is using the closure to carry out works totalling £25,000 to improve traffic flow in the area.
Shinfield Road will be widened and two filter lanes created.
The council will add a filter lane for vehicles turning left from Shinfield Road into Elm Road and a road turning right from Shinfield Road into Whitley Wood Road.
Traffic complaints
The Reading Borough Council roadworks are expected to be finished by the end of March.
The local authority has been deluged with complaints since lights replaced mini-roundabouts in September 2010.
The council reviewed the scheme in November, but decided against reverting to the previous road layout.
Had it immediately changed it back, it could have risked having to repay the £750,000 grant from central government which funded the traffic light changes.
Under the previous traffic system three deaths had occurred on Shinfield Road in three years.
According to Councillor Richard Willis, member for transport at Reading Borough Council, the area had been of the worst accident black spots in Reading before the traffic lights were installed.
However, before Christmas the council asked TRL, an independent traffic research company, to begin a second review into how to improve traffic flow and safety on the road, with results expected by summer 2011.
'Trade lost'
Since the lights were introduced, the Royals Fish and Chips in Shinfield Road has closed, blaming its decline in trade on the new road layout.
Kim Maysh, who owns the The Village Barbers, said she believed her trade had fallen by 30% since the new traffic light system was brought in.
"My customers all talk about the traffic lots," she said. "They carry on coming here out of loyalty, but I think I'm missing out on passing trade."
Mahmood Bhatti, manager of Mr Cod, said his takings were down 20%.
"I've noticed it at lunchtime," he said. "People can't come quickly and get food in their lunch hour because of the traffic."
Mr Willis said the council had decided to carry out its roadworks at the same time that Wokingham Borough Council closed Elm Road to minimise the number of days of disruption to residents.
He also said less traffic would be coming through Shinfield Road during the Elm Road closure.
The council has also agreed to provide free parking for up to three hours rather than an hour during the day near the shops on Shinfield Road in a bid to increase trade in the area.