Thousands take part in Reading Half Marathon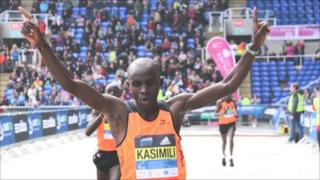 Up to 16,000 runners have taken part in the 29th Reading Half Marathon.
The winner was Kenyan Simon Kasimili in 63 minutes and eight seconds.
In second place was fellow countryman Edwin Kipyego in 63 minutes and nine seconds.
Edwin Kiporir, also from Kenya, came in third place in 63 minutes and 12 seconds.
The female winner was Kenyan Edith Chelimo in 71 minutes and 22 seconds.
The race started in Reading's Green Park and finished at the Madejski Stadium.