Why Bracknell needs long-awaited regeneration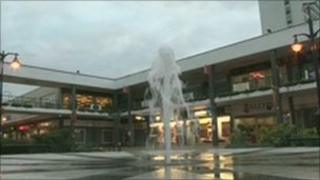 "I'm devastated," said single mother Sophia Mayers.
The hairdresser has been served a compulsory purchase order on her business, the London Hair Salon, to make way for a new £20m health centre in a Berkshire town.
"I'm a single mother, and it's my sole income."
Designated as one of 10 new towns in 1949, Bracknell was originally built to help alleviate the housing shortages following World War II.
Today, the centre of town is filled with 1960s architecture and lacks the modern shopping amenities of nearby Reading and Camberley.
Earmarked for regeneration since September 2002, the town is finally seeing some scaffolding go up as Waitrose starts work on a new store to open by the end of 2011.
A new £20m health centre for the town has been approved, and the Bracknell Regeneration Partnership has said it is in talks with "major retailers".
Planning permission has also been granted for a new design to the entrance to Princess Square.
The partnership said it believed more businesses would be interested in coming to the town after Waitrose committed to a new store in Bracknell.
Traders evicted
The new developments are a mixed blessing - a number of traders have been served compulsory purchase orders and asked to leave by 14 March 2011 in order to make way for the proposed Skimped Hill health centre.
Among them is Ms Mayers, who said she has been unable to find alternative premises for her business.
However, Bracknell Forest councillor Paul Bettison said that none of the traders had contacted the council about their predicament.
"I certainly do feel for Sophia and anybody whose had to disrupt their business due to the CPO [compulsory purchase order] process," he said.
"The majority of occupiers of premises are very content with things."
Tim Wheadon, the chief executive of Bracknell Forest Council, admitted plans for the town had been scaled back from the original ambitions for the town in 2002.
Tim Wheadon said: "The original planning application showed a massive scale redevelopment. Of course, with the recession it's not economically viable to build that scheme out."
Mr Wheadon said the scheme would now be carried out in phases.
Mr Bettison said the original plans had been "too ambitious for their time".
"The recession arrived six months before work was due to start taking place," he said.
Mr Bettison has pledged that the majority of works planned for the town would be completed within five years.
Helen Barnett, of the Bracknell Regeneration Partnership, said the scheme had taken a long time to come to fruition due to its complexity.
"We've got a 90-acre site, it's a mixed use scheme of offices, leisure, shops and residential," she said.
However, for Tony Laing, the owner of Just Looking, a shop based in Bracknell's Charles Square, the regeneration has come too late.
He has decided to close up shop at the end of April as the builders move in to start work on the new supermarket.
"You've got all these new developments in Festival Place, one in Wokingham, one in Camberley. Everyone wants to go there," he said.
"It's probably 15 years too late. We still don't know when all the work will be done and the shopkeepers will be trying to trade in a building site."