French armed forces take part in Windsor Royal Tattoo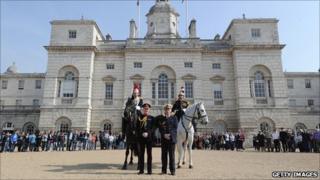 French armed forces will join British servicemen in the annual Royal Tattoo at Windsor Castle for the first time this year.
Some 250 members of the French army, navy, air force and gendarmerie will cross the English Channel to join the military musical spectacular.
The move comes after Prime Minister David Cameron and President Nicolas Sarkozy signed a cooperation treaty in November.
The agreement committed forces from both countries to operating together for decades to come.
The two nations are to pool troops, aircraft carriers and nuclear testing facilities.
Celtic band
To celebrate the treaty, The Band of The French Foreign Legion, The Mounted Band of La Garde Republicaine, The French Navy Celtic Band and The French Air Force Band are all set to perform at the tattoo, which will be held from Thursday 12 May to Sunday 15 May.
Event organiser Simon Brooks-Ward said: "We were slightly concerned the pipes of the French Navy Celtic Band would sound a little different to our pipes but they sound glorious.
"It makes a bit of a change to the past four years and brings a bit of Gallic flavour."
Mr Brooks-Ward said he hoped that other defence partners might join in the tattoo in future years.
Major General William Cubitt, General Officer Commanding London District, said: "The tattoo has always provided the public with an opportunity to recognise the contribution of the armed forces both in the UK and overseas and to congratulate them on the progress they are making, especially in Afghanistan.
"The action vignette that will be played out at the event will exemplify the close partnership we have with the French armed forces."
French Attache Admiral Charles-Edouard de Coriolis underlined the importance of "bilateral defence cooperation".
He said: "As peers, the French Armed Forces are very honoured to be invited to the 2011 Windsor Castle Royal Tattoo.
"France and UK are stronger together. The Windsor Castle Royal Tattoo is another opportunity to demonstrate that joint inter-operability."