Reading residents will pay for green bin recycling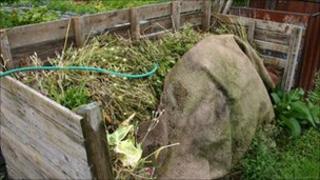 People living in Reading will have to start paying for their green waste to be recycled from Friday 1 April.
A third of the town's residents will be affected by the new £22.50 annual charge, which was announced last week.
Previously, people living in Reading only made a one-off payment of £10 for a green bag or a one-off payment of £32.50 for a green bin.
The council said the changes were necessary to give value for money following a "difficult budget."
It originally gave residents just five days to respond, but has now extended the deadline to refuse to pay for green bin/bag collection until 12 April.
In a statement, it said: "The council remains committed to encouraging residents to recycle their household and garden waste to help reduce landfill.
"Residents who choose not to have their green bins collected are welcome to take their garden waste to the household waste and recycling centre where it can be composted."
Tanya Beeny is from Caversham Park, near Clayfield Copse.
Flytipping increase
She said she was not happy about the charges, but will be forced to pay due to her personal circumstances.
"I have a small child," she said. "I often do a bit of gardening in the evening and trying to get up to the council tip with a little one isn't easy."
Ms Beeny said she was concerned that others might start using her green bin in a bid to avoid charges.
She was also worried that flytipping could increase in Clayfield Copse.
"I purchased the bin in the good faith that it would continue, not to then find it was going to be additional charges and they never mentioned this in any of the information prior to now until last week when we got a letter. It was just a week's notice," she said.
Glenn Burden, of West Reading, said: "I understand the need to charge but the notification process was terrible. On principle I shan't be paying.
"As we don't have to return the green bin I will probably look to convert the green bin into our own composter, though I'm not too sure how at the moment."
The new annual charges will be £22.50 for green bins with a discounted rate of £12.50 for additional bins and £7.50 for green sacks with a discounted rate of £5.00 for additional sacks.
To opt out of the new scheme, residents need to contact Reading Borough Council by 12 April.
Invoices will be sent out to residents who wish to continue with the service after 12 April 2011.
Collections will continue until late May for residents who decide not to continue with the garden waste. This will allow them time to get their bins or bags emptied if they are already full.
Reading Borough Council was taken over by a Conservative-Liberal Democrat coalition at the last election.