Seventy Berkshire children in science blast asbestos scare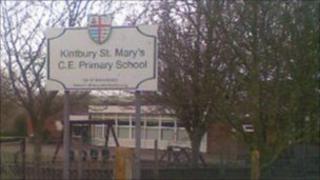 About 70 primary school children have been exposed to asbestos when a science lesson explosion lifted ceiling tiles in a Berkshire school hall.
Pupils were evacuated from the hall at St Mary's in Kintbery, Hungerford, when a chemical test involving a hydrogen balloon caused a "sonic reaction".
Dust that fell from the ceiling tested positive for a small level of asbestos.
Health and safety officers kept the children's uniforms for testing and the pupils were sent home in their PE kits.
The hall has been sealed off and all parents have been informed.
A West Berkshire Council spokesman said: "I can confirm that during a science lesson at the school today, a planned chemical reaction involving a hydrogen balloon, resulted in a sonic reaction that lifted ceiling tiles in the hall releasing dust.
Uniforms 'bagged'
"It is known that insulating boards in the ceiling contained low-level asbestos, so the 70 pupils in the hall, and the supervising staff, were evacuated and the hall immediately sealed off.
"Health and safety officers from the local education authority attended the school and carried out air tests."
He said the tests had "proved positive" for asbestos dust, although levels were very low.
"As a result, the uniforms of the children have been retained at the school and bagged, and the pupils sent home in PE kit."
He added health and safety officers would return to the school on Friday to continue their investigation.