Legoland Windsor stunt performer seriously injured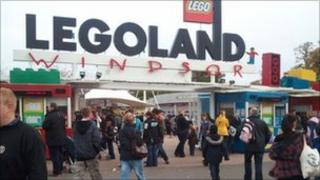 A performer at Legoland Windsor theme park has been seriously injured while rehearsing for a stunt show.
The 22-year-old man from Southampton was carrying out a "routine rehearsal" of the Lego City Stunt Show when the accident happened on Monday.
The Health and Safety Executive (HSE) is investigating the incident, which happened when the park was closed.
SGA Productions, which produces the show, said it was "a deeply regrettable" but "isolated" incident.
Legoland Windsor did not want to comment.
In a statement, SGA Productions said the company was remaining in regular contact with the man's family regarding his progress and it was "too early to accurately assess the long-term impact of the incident".
Routines 'adapted'
"A full investigation by the HSE and the local Environmental Health Unit is now under way and routines have been adapted under their advice," it said.
"This is an isolated incident in the history of shows and events organised by SGA Productions.
"As with all our events, only fully-trained professionals were employed and all precautions were taken to ensure the highest possible safety levels for both staff and spectators alike.
"At the moment, we are not able to release further information about the individual involved."