Newbury looks into hydroelectricity on River Kennet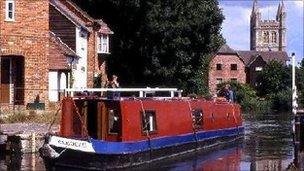 An environmental group is carrying out feasibility studies into utilising hydroelectric sources of energy along the River Kennet.
Creating renewable energy to sell to the grid is more lucrative for local authorities since new feed in tariffs were started in April 2010.
Roger Hunneman is from Sustainable Newbury, which is part of Newbury Town Council.
He said two sites along the Kennet could generate £20,000 of power a year.
The group is looking into using a "fish friendly" Archimedes screw to generate the hydro power, due to concerns over fish stocks from the Environment Agency.
Mr Hunneman said: "An Archimedes screw could generate up to 22 kilowatts at Victoria Sluices in Victoria Park or at Lock Island, upstream of Newbury Lock."
Creating a hydroelectric scheme at Victoria Sluices was part of the West Berkshire Council's carbon reduction plan in 2008, but was estimated in that year to have capital costs of £200,000.
However, the original pay back time of 16 years is likely to have shortened significantly due to the new FIT scheme.
David Vass is the owner of the Mill at Sonning in Berkshire, which gets all its power from hydroelectricity.
He said: "It cost us £50,000 to install the mill back in 1995.
"It's saving us £23,000 a year. It generates enough power for the whole of the Mill at Sonning plus we can export a little bit through the night time hours.
"There should be one on every weir."
The feed in tariffs (FITs) scheme introduced in April 2010 includes support for hydro schemes of up to five megawatts.
In a statement, West Berkshire Council said it was supportive of the proposal.
It will look again at the possibility of using hydroelectric power if a government review into the FIT scheme is favourable.
Related Internet Links
The BBC is not responsible for the content of external sites.