Ufton Nervet villagers receive annual gift of bread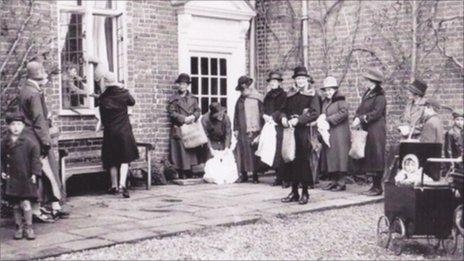 Parishioners are being invited to a traditional ceremony in which bread and towels are distributed as a gift to the "poor" of the parish.
Landlord Sir William Benyon will lead the "Ufton Dole" event at Ufton Court, Ufton Nervet, on Thursday. The event has been staged since 1581.
Lady Marvyn, the then owner of Ufton Court, is said to have put the gift in her will to repay an act of kindness.
Residents had helped her home safely when she became lost in nearby woods.
She never forgot this "good deed", and asked for it to be done annually from Ufton Court.
Lady Marvyn died in 1581, and in her will she made provision for the annual distribution of wheat, canvas and cloth to the "poore of Ufton".
A table of benefactions in Ufton Nervet Church states that she gave 10 bushels of wheat, to be made into household bread; 12.5 ells of canvas at one shilling per ell for shirts and smocks; and 12.5 yards of narrow blue cloth at one shilling and eight pence per yard for coats and cassocks.
Over the years the tradition has been somewhat altered, so that all parishioners living in the ecclesiastical parish of Ufton Nervet now receive two large loaves of bread.
Some are also eligible for towels every five years.
Lady Marvyn was the widow of Richard Perkins, a member of a Catholic family which was persecuted in the 16th Century.
Ufton Court is notable for its priest holes where recusant Catholics could hide priests and vestments and could hear mass in the house.
The Ufton Dole, as it is colloquially known, is still distributed every year from the same window above the terrace at Ufton Court.
Related Internet Links
The BBC is not responsible for the content of external sites.